Laura and Stephen Kreitzer Community Fund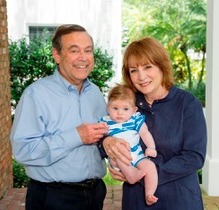 The Laura and Stephen Kreitzer Community Fund, was created to honor Laura and Stephen and their many years of service to the community.  Contributions to this fund will enhance Laura and Stephen's support for the causes that are near and dear to their hearts.
Laura and Stephen met at Queens College, New York, married and settled permanently in Tampa in 1978 after his fellowship at Harvard. Prior to opening his practice in Tampa, Stephen received his medical degree from the Albert Einstein College of Medicine, and served as a major in the U.S. Medical Corp stationed at MacDill AFB. Laura and Stephen are the proud parents of Joshua, Jason, Ethan and Tatiana, and adoring grandparents of Harrison.
Certified in Internal Medicine, Pulmonary Diseases, and Sleep Medicine, Dr. Stephen Kreitzer served on the Board of Censors for the Hillsborough County Medical Association. He was also a member of the Community Board of Directors at Memorial Hospital of Tampa and has served for two years as chair of the Health Professions Division of the United Way Campaign for Tampa. Stephen will be retiring this year, after 51 years of practicing medicine in Tampa.
Their sincere devotion to the Jewish community and philanthropy is evidenced by their deep involvement with many local organizations. 
The Kreitzers are both actively involved in the Tampa Jewish Federation. Laura is a past president of the Tampa JCCs & Federation, a Lion of Judah Chair and a long-time board member. For many years, Stephen chaired the Maimonides Society, the medical division of the Federation's Annual Campaign.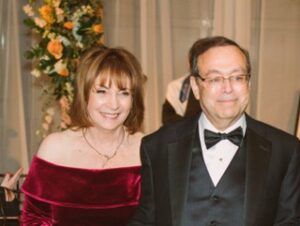 Laura was honored with many awards including the Leonore Kessler Women's Division Award, the Leo Levinson Memorial Award for Leadership Excellence and has been recognized as a Bobbe Karpay Woman of Distinction.  In 2015, Laura won the community's prestigious Tikkun Olam Award. During the presentation, Laura was called a "change agent...known for quiet leadership and bringing people together."
Laura is a past president and long-term board member of the Hillel Academy of Tampa. Laura served for many years as a board member of the Hillels of the Florida Suncoast, officiating as president for four years during which time the funds for the USF Hillel Student Center were raised and the building was completed.
Laura and Stephen received the Lifetime Achievement Award from Congregation Rodeph Sholom and Laura, a past president of Congregation Rodeph Sholom, received the Baalat Mitzvah Award from the Women's League for Conservative Judaism.  The Kreitzers also support the Jewish National Fund and were the recipients of the Tree of Life Award. 
To make a gift in honor of the Kreitzer's outstanding service to our community, please click the link below to make a tax-deductible donation via credit card. The Kreitzer's will be provided with the names of those who made donations in their honor.  The amounts of the donations will not be disclosed.
To donate via check: please make check payable to: TOP Jewish Foundation, and include the name of this fund in the memo line. Mail checks to: TOP Jewish Foundation, 13009 Community Campus Drive, Tampa, FL 33625
To donate via credit card: Click on the link below.  Please be sure to include the name of the Fund:  Laura and Stephen Kreitzer Community Fund