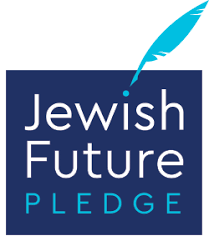 TOP is proud to partner with Jewish Future Pledge, a worldwide movement working to ensure that vibrant Jewish life continues for generations to come. No matter your age or your net worth, the Jewish Future Pledge is for you. It calls on all Jews to commit that from the charity they leave at their passing, at least half is earmarked to support the Jewish people and/or the State of Israel.
Together, TOP Jewish Foundation and Jewish Future Pledge will advance a shared vision and commitment to ignite a surge in Jewish pride, spark critical intergenerational conversations about Jewish values and proliferate a culture of legacy giving.
Declare you care – take the pledge today!
The Jewish community is at a crossroads. A rising percentage of young people are disconnecting from their Jewish identity, community organizations, and Israel. At this important moment, we can ignite a surge in Jewish pride and secure funds to ensure the Jewish future.
Together, let's pledge to make a difference in the world-now, and into the future. Contact us to learn more.
Discover more:
Ready to take the Pledge?